Surf Synergy Presents: RAIL GAME with Rodrigo Machado
With Rodrigo Machado
January 28 - February 4, 2023
Rodrigo returns to Surf Synergy with his skillfully developed modality, Power Surf!
The tenets of Power Surf are based on the 4 Pillars of High Performance -Physical, Technical, Tactical and Psychological.  Surf coach, Rodrigo Machado, has systematized a training method with the step by step instructions to facilitate the learning and technical improvement of surf maneuvers and an unshakable mind to achieve your goals in and out of the water.
This edition is RAIL GAME and is dedicated to gaining stability on the rail and connecting to the board – this is where your Power Surf journey begins!  This collaboration combines the best of Surf Synergy, the deep knowledge our co-founder and head coach Marcel Oliveira, with Rodrigo's extensive experience.
Learn:
How to compress in the Gorilla Pose
How to compress on the toes side rail
How to compress on the heels side rail
Advanced breathing techniques
How to apply the Power Surf tenets to your daily life
Included in this Retreat:
Rodrigo's Expert Content
Private Airport Transfers
7 Night Accommodation in Air Conditioned Bungalow
3 Meals Per Day (menu designed for performance nutrition)
5 Meditation/Yoga/Movement Classes
1 One Hour Long Massage
1 Offsite Excursion
1 Ice Bath Session
5 Surf Lessons with Video Analysis from World Class Surf Coaches
End of Week Summary Video
Organic Bath Products
Coffee, Tea, and Filtered Water 24/7
Concierge Services
This retreat is for intermediate and advanced surfers.
Leader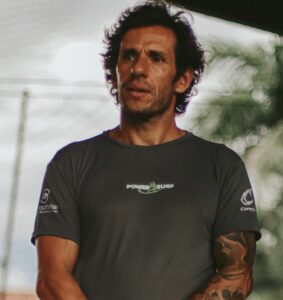 Rodrigo Machado
Rodrigo Machado is  a surfer who for 23 years has been deepening and perfecting the Art of Hacking Surf, facilitating physical and technical exercises that impact the most significant number of surfers who want to improve their performance. In Brazil, he was the coach of  the professional surfer Peterson Rosa and worked with the base categories of the Peterson Rosa Surf School. During his time there, the school revealed talents like Jihad Khodr and Peterson Crisanto. On the north coast of Spain, Basque Country, he has been working for 12 years as Surf Coach of the basic categories of the…
Learn more about Rodrigo Machado